Chopper's latest book I've Been Tricked! Chopper's "Tails" of Helping Others is here!
Orders now being accepted
- email Mommy at ivebeenlicked@gmail.com to order!
"Chopper's at it again, but this time the joke's on him! Chopper surprises himself when he learns he has many skills to help others … and that helping's lots of fun. From snuggling in librarians' laps during read-alouds
to licking plates clean, Chopper's joyful discovery of his unique talents will have readers
"sniffing out" opportunities to share their own talents."
­
– Todd McDonald, Librarian, Walter Jackson Elementary School

Early Reviews for "I've Been Tricked!"
"I thought it was a great way to wrap up the series by getting all the people in Chopper's life in it.
The photographs were some of the best I've seen of Chopper; he genuinely looked like he was smiling in some. Overall, I loved the book and would definitely read it to kids.
The parts with Coach are definitely laugh-getters!" – Todd, Alabama

"It was very funny!" – Stella, Age 8

"It looks great! That picture of sweet Chopper licking his Daddy's head is PRICELESS!
– Anne, Virginia

---
Canine author Chopper Steedley-Tolan is a seven-year-old Shih Tzu who completed beginner obedience training, but was called
"strong-willed" and "a party on wheels" by his teachers. Chopper (with the help of his Mommy, Amanda L. Steedley)
is currently working on his final photo-illustrated children's picture book, I've Been Tricked!, which covers the
canine and human issues of trying new things, asking for help and helping others.

Chopper has also written a travel guide for dogs and their humans and he enjoys riding motorcycles, traveling, visiting schools and libraries and playing with his toys and canine and human friends. Chopper lives in Northern California with his family.

Reviews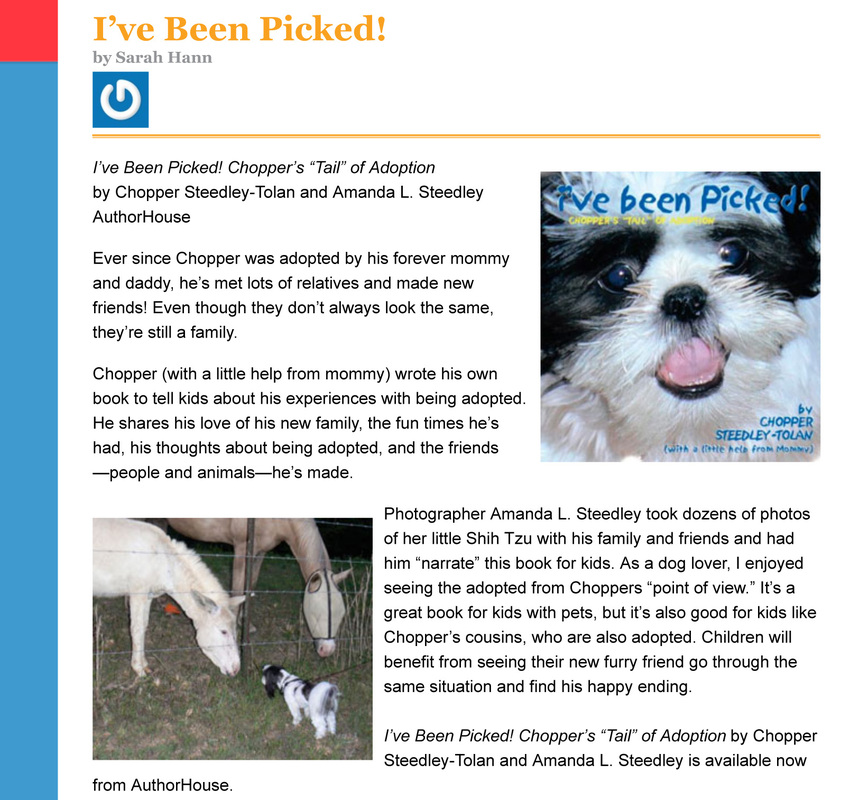 I've Been Picked! Chopper's "Tail" of Adoption, Chopper Steedley-Tolan, (AuthorHouse). It's a dog's life for Chopper, but that's a good thing when the shih tzu goes to his forever home. Readers ages 4 to 8 can follow as the puppy makes new friends and finds new ways to have fun and make mischief in his new family. Amanda L. Steedley '00 M.S. helped Chopper out with the writing and illustration of the colorful book.
– Notre Dame Magazine
Testimonials

"In all of Chopper's "tails", he faces a daunting situation like being adopted, going to the doctor, and getting all clean. He emerges as a brave dog. Like Green Eggs and Ham, Chopper's "tails" encourage children to do something they may not want to do or may be afraid to do. The pictures tell the story so well a child can "read" the book themselves by looking at the pictures. So many of our patrons, young and old, enjoy Chopper's adventures that the books seem to fly off the shelves, so I am buying more copies for the library so no one has to wait too long to enjoy these fun "tails". – Sandy McCandless, Director of the Decatur Public Library

"Supported co-riders Amanda & Chopper's new book, "i'm not icky!". Thank you for the invite and it was the best book launching party, ever! Every detail was set-up with love! From your inventory of goods, paw signature, refreshments & the star himself, handsome Chopper!"
– Mari P., Motorcyclist, California

"Got my book and I read it to the little girl I babysit -- big hit!" – Anne S., Writer and Babysitter, Alexandria, Virginia

"I really enjoyed the book, and I think the photos and Chopper's face in them are hilarious! Stella and I just finished the book, and she begged to read it again. We both particularly liked the thermometer page. She cracked up, so I think that page'll be a big hit."
– Todd McDonald, Dad and Librarian, Walter Jackson Elementary School

I read it to Caroline (age 5) and she loved it. She said, "Read it again!" – Cheryl G., Alabama

The children had a blast at Author Night. Some of the girls talked about Chopper at another school, and my student told her classmates about Chopper. The kids think it is awesome that Chopper can ride on a motorcycle. – Debbie D., Montessori Pre-school Teacher, California

One of my students "talks about Chopper every day and we play with our stuffed Chopper every day. Every new student hears all about Chopper. We are going to write letters next week and mail them" to Chopper. – Michelle P., Teacher, Virginia

"Oh, I got my book today and I LOVE it. Thanks so much!!! – Sylvia R., Virginia

"We really had a great time at the book signing and the kids love the book. They still say "we met Chopper!" or "that's Chopper" (when reading the book). It's such a great story...Chopper has such a great family!" – Michelle F., Los Angeles, CA

"My granddaughters loved the book. You did a really good job on it Amanda. Chopper has great parents. I enjoyed myself at the event. The people were all very friendly." – Vicki H., Marysville, California

"Layla is in LOVE with the stuffed doggie that favors Chopper!! She opened the box and was super excited when she saw the doggy!!! And the book!! We actually read it last night as a bedtime story! She picked it!! – Katherine P., Alabama

Learnteria Listings

Please
click here
to view listings on Learnteria